Bases de datos

Profesores destacados
Professor R. Paul Singh
Distinguished Professor Emeritus
Department of Biological and Agricultural Engineering
2042 Bainer Hall
University of California
Davis, California 95616
E-mail: rpsingh at ucdavis.edu
Research: Transport phenomena in food processing. Computational modeling of processing operations. Study of gastric digestion of foods, modeling of stomach functions, role of material properties and microstructure of foods in nutrient release in the gastro-intestinal tract.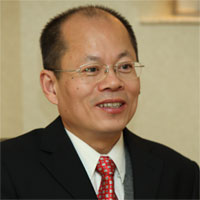 CURRENT POSITIONS
Full Professor of Food and Biosystems Engineering (Personal Chair), National University of Ireland – Dublin (University College Dublin)
Director, Food Refrigeration & Computerised Food Technology (FRCFT), National University of Ireland – Dublin
Email: dawen.sun@ucd.ie
Gustavo Barbosa-Cánovas, Ph.D.
Professor
Research Interests
Dr. Barbosa is director of the Center for Non Thermal Processing of Food (CNPF) and works in the BSysE Food Engineering research emphasis area. His primary interest is in finding effective and less harmful methods of preserving food through the study, development, and application of nonthermal technologies.