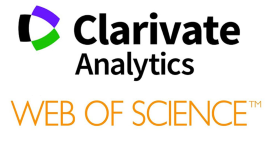 Año 2017
Guibeth Morelo, Gloria Márquez-Ruiz, Francisca Holgado, Begoña Giménez, Paz Roberts. 2017. Design of flavonoid microparticles with channel forming properties to improve oxidative stability of sunflower oil. European Journal of Lipid Science And Technology, 119(10).
Manuel Palma, Gloria Márquez-Ruiz, Paula García, Francisca Holgado, Cristina Vergara, Begoña Giménez, Paz Robert. 2017. Effect of spray-dried flavonoid microparticles on oxidative stability of methyl linoleate as lipid model system. Journal of The American Oil Chemists Society, 94(1), 99–105.
Paula Jiménez, Paula García, Andrés Bustamante, Andrés Barriga, Paz Robert. 2017. Thermal stability of oils added with avocado (Persea americana cv. Hass) or olive (Olea europaea cv. Arbequina) leaf extracts during the French potatoes frying. Food Chemistry, 221, 123-129.
Jaime Ortiz-Viedma, Nalda Romero, Luís Puente, Katherine Burgos, María Toro, Leslie Ramirez, Alicia Rodriguez, Jorge Barros-Velazquez, Santiago Aubourg. 2017. Antioxidant and antimicrobial effects of stevia (Stevia rebaudiana Bert.) extracts during preservation of refrigerated salmon paste. European Journal Of Lipid Science And Technology, 119(10).
Jilberto F., Araneda C., Larraín M.A. 2017. High resolution melting analysis for identification of commercially-important Mytilus species. Food Chemistry, 229, 716-720.
Lemus-Mondaca, R., Zambra, C., Vega-Gálvez, A., Moraga, N. 2017. Modeling 3D conjugate heat and mass transfer for turbulent air drying of Chilean papaya in a direct contact dryer. Heat and Mass Transfer (IF: 0.946), 53(1), 11-24.
Uribe, E., Vásquez, V., Vega-Gálvez, A., Pasten, A., Callejas, L., Lemus-Mondaca, R. 2017. Hot-air drying characteristics and energetic requirement of the edible brown seaweed (Durvillaea antarctica). Journal of Food Procees and Preservation (IF: 0.791). Accepted. DOI: 10.1111/jfpp.13313.
Lemus, L.A., Moraga, N.O., Lemus-Mondaca, R. 2017. Influence of backfill soil shear strength parameters on retaining walls stability. Revista de la Construcción – Journal of Construction (IF: 0.358), 16(2), 175- 188.
Ah-Hen, K., Costa, M., Poo, S., Lemus-Mondaca, R. 2017. Anthocyanin retention of cranberry (Vaccinium macrocarpon) juice subjected to different nanofiltration conditions. Journal of Chemistry (IF: 1.300). Accepted. DOI.org/10.1155/2017/7209243.
Cepero-Betancourt, Y., Tabilo-Munizaga, G., Moreno-Osorio, L., Villalobos-Carvajal, R., Pérez-Won, M., Lemus-Mondaca, R. 2017. Effect of drying process assisted by high-pressure impregnation on protein quality and digestibility in red abalone (Haliotis rufescens). Journal of Food Science and Technology (IF: 1.262). Accepted. DOI 10.1007/s13197-017-2837-8.
Año 2016
Abugoch, L, Tapia, C, Plasencia, D., Ana Pastor, Olivio Castro-Mandujano, Luis López, Victor H Escalona. 2016. Shelf-life of fresh blueberries coated with quinoa protein/chitosan/sunflower oil edible film. Journal Of The Science Of Food and Agriculture.
Nelson Caro, Estefanía Medina, Mario Díaz-Dosque, Luis López, Lilian Abugoch, Cristian Tapia. 2016. Novel active packaging based on films of chitosan and chitosan/quinoa protein printed with chitosan-tripolyphosphate-thymol nanoparticles via thermal ink-jet printing. Food Hydrocolloids. 52, 520-532.
Cristián Araneda, Ximena Noriega, Felipe Jilberto, Jorge Ruíz, Coral Jara, Fabiola Lafarga, María Angélica Larraín. 2016. Development of genome-wide microsatellite resources in a commercially important mussel species (Mytilus chilensis). Animal Genetics, 47(3), 387–388.